We gain weight during treatment, and losing it can be difficult.
Hospital meals chock full of fatty preservatives don't help, and trying to find a healthy snack in hospital can be impossible.
Thank heaven campaigns by well-known chefs like Jamie Oliver are shaming hospital authorities in to doing something about the unhealthy food sold in their franchised outlets – up to now they have been turning a blind eye because of the money they are making.
                                                                Sadly, this cartoon was seriously true for me.
Last time I was in an NHS hospital, the first meal I ate made me violently sick all night – so I avoided eating any thing else cooked on the premises whist there, relying on kind friends to bring me in food parcels.  Luckily my stay was only for four days, otherwise I might have looked like a salad ingredient.
I asked to be moved to King Edward VII, noted for its chef.  I just couldn't face a month of  home-made sandwiches and cold salads, and King Edward's food is noted.  Unfortunately, the hospital I transferred  from didn't tell me I had picked up a bad case of staphyloccus coagulas negative (look it up – I don't understand either) whilst I was there; which is mega-resistant to antibiotics, so the medicine I was finally given at King Edward's zonked out the nasty germs – and also my appetite.
I think I am one of the few patients at King Edward's who ever left their hospital having lost weight;  it's usually the other way round, and the chef was so worried that he came to see me especially to ask if there was anything I fancied eating.  Sadly, not.  But I did lose a lot of weight.
Latest food news
There is good news for friends.  If M & S., Royal Voluntary Service and others have any say in the matter, they may be able to buy ready-made salads and other healthy snacks for us at hospital shops.  The NHS has warned Trusts that they must ditch the sugary drinks, sweets and other calorific snacks, and aim for healthier alternatives.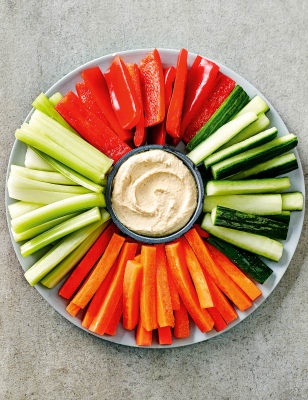 If there is an outlet in your hospital, ask friends to bring you in one of their salads.  If no friends around, you might ask if there is a delivery service.  Or resort to bribery:  most nurses have a favourite M & S snack or dish – offer to buy it for them   if they will pick up a salad for you.  Shame the hospital into offering some of their food as an alternative.  Or be sneaky – order their tray of crudities (enough to hand round – see above) and offer to every nurse that passes.  They all want to lose weight so you could have a stream passing by – which also means you can get in requests!
NHS England has warned hospitals and their suppliers that they have to cut down on the calories, threatening an outright ban, particularly if they fail to reduce  sales of sugary drinks by at least 10%.  Trusts make a profit on these sales, which goes towards the running of their hospitals, and it remains to see if this will hit them in the pocket. or if patients and friends will change to alternatives.
Some Trusts, such as the Derbyshire,  Northumbria, Tyne and Weir Foundation Trusts have already put in place a complete ban, but many other Trusts still haven't signed up.   It remains to be seen if the Government's crack down on obesity has an impact, or if patients don't back the healthy food outlets. and hospitals are faced with falling income or pandering to unhealthy eating habits.  Watching a massive pizza delivery coming through one hospital's doors last week, I remarked on how difficult it was going to be to change patients' eating habits.  "Oh.  It's not the patients", said the hospital PR, "that's the doctor's delivery".
Bon Appetit – and keep on shaming hospitals with unhealthy food, some of whom spend less per day feeding their patients than prisons spend feeding their inmates!