Slow Down!
Your call to 'Build  build  build' is about to destroy our precious Green Belt' – and your Talking heads' shows just confuse me. This is not a happy post-Covid legacy and I wish you would stop!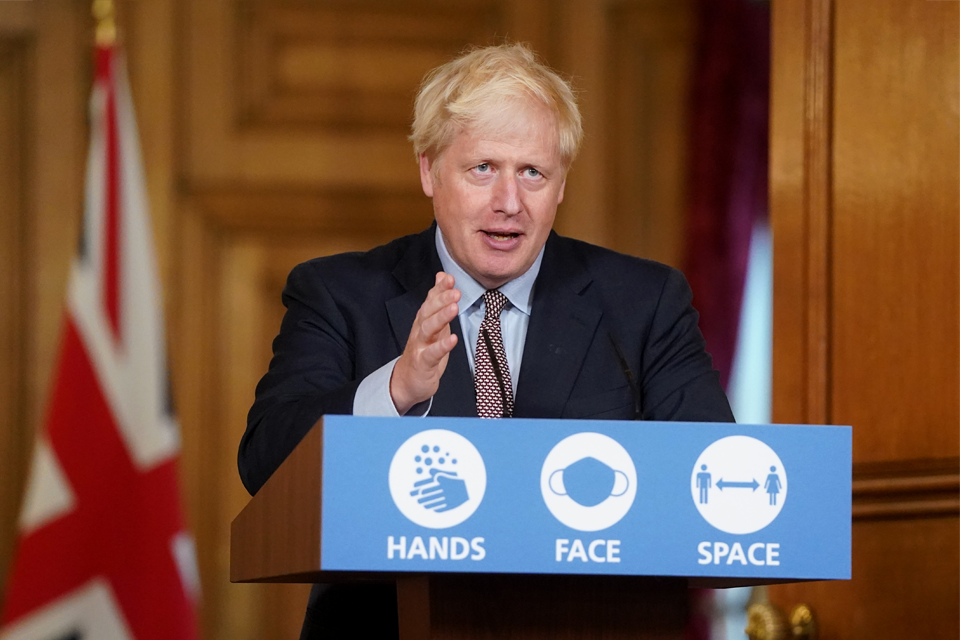 You appear at press conferences looking like a disheveled, peelly-wally heap, and lose me after your third or fourth stutter – an affectation on your part which doesn't impress me.  Don't blame 'breathing difficulties' on Covid – you would have been taught by Lane Fox nurses how to breathe – or didn't you bother to listen?
Many of us voted for you because we thought you would stand up to the EU bullies. Now it's time to show your mettle and prove you are Prime Minister material.
Stay in Downing Street
Forget about traveling to photo-calls all over the country.  You've got a job, and shouldn't take time off for ego trips to have your photo taken. The confusing messages coming out about the present situation must be because the Boss is never there.  Stay in your office, and you would have time to sort out the mess between Welsh, English, N.I. and Scots regulations; not helpful if everyone goes their own way.
Recovery
It's no use jumping up and down saying we must all get back to work.  Haven't you read the many surveys coming out that confirm a large proportion of us now want to Work From Home (WFH)
Unlike you, having to pander to the Construction Industry, many of us have taken stock and realised that lockdown has been a golden opportunity to think about our life, the environment and how we want our world to work.  No longer do expensive commutes take up a large chunk of stressful non-productive time;  we now realise how expensive our coffee-to-go was; we are at home when a delivery arrives, and we can take time to think out a problem whilst taking a walk in the woods. In my case a peaceful Green Belt area (but for how long?).
Lockdown has meant major changes for the better.  From the Police, who reveal road traffic accidents were significantly down in all areas, to South Central Ambulance staff who tell me that not having to scoop up drunks, attend traffic accidents etc. has made their life easier.  We have yet to hear how lower pollution has affected our health -but it has to be for the good.
Green Belt
Since it was first proposed in 1935, this wonderful area of our preserved countryside has become a  treasured part of our country.  If people are going to be working from home, they are going to need these open spaces to get out, get exercise and – as has been proven – help their mental health. The Green Belt was set up
To check the unrestricted sprawl of large built-up areas
To prevent neighbouring towns from merging into one another
To assist in safeguarding the countryside from encroachment
To preserve the setting and special character of historic towns
To assist in urban regeneration, by encouraging the recycling of derelict and other urban land.
I live in an area surrounded by the Green Belt, and during lockdown it has been a magnet for crowds (all social distancing because there was plenty of green space) from major towns nearby.  These visitors are well-behaved, because loving the country they respect it.
This video shows how and what will be destroyed if Green belt land is concreted over : https://vimeo.com/452273148
If this plan is allowed it will set a precedent for every Rural County in England, and once built over, it will never be available again for everyone to enjoy.
So if you want to help stop this, sign and share  this petition  http://www.oxonlibdems.uk/sodclocalplan
And Boris – just slow down, take a deep breath, and think what is best for the country overall.  Yes, many of us will want to get back to work, but many will want to WFH – what you need to do is help keep communities together – as they have come together during lockdown.
Think about building Community Hubs – instead of more mega offices and soulless housing estates. These Hubs could provide a cafe, pub, IT repair shops, cleaners, etc.  So people could take a walk down to the Hub whenever they wanted a chat, or company, or needed to get something repaired rather than throw it away.