450,000 missed mammograms  
Jeremy Hunt stands up in Parliament to explain – gives an abject apology
for once I almost feel sorry for him 
Why?  Because he is supposedly in charge of a Ministry that keeps on making mistakes that could cost lives.
Breast cancer patients are demanding answers as Hunt admits up to 270 may have died in a massive failure of NHS screening programme – but no-one is sure how many.
The uproar was still roaring over this, when evidence of  junior doctors' appointments were the subject of a 'computer error' and 1,500 desperately-needed doctors are jobless.
I wonder why none of the 450,000 women supposedly affected seems to have nudged her GP and alerted them to missed appointments.  Or did patients remind GPs, but were fobbed off because of cost-cutting?  I suspect it may be the latter – as I am experiencing this at the moment.
And with hospitals crying out for staff, why didn't hospital HR departments get out of their expensive ergonomically-designed chairs and do some old-fashioned detective work on Twitter, Facebook, media and radio to offer jobs to these?
Post code reigns supreme
Meanwhile ordinary patients put up with these blunders, and can only weep at the way NHS Admin is heading;  where is next 'computer error' going to strike?  Notice it's always blamed on technology, but someone has to in-put duff info into the machines – they can't think for themselves yet.
Having moved to another area of UK, I find the post-code lottery is alive and kicking in Oxfordshire.  I have just received a letter from my GP saying I don't need to be referred to The Churchill – the local cancer centre – for a mammogram. Having been under the friendly eye of a London hospital who would have screened me automatically this summer, I am not standing for this, but know there will be a big fuss to get my DEXA scan check-up, mammogram etc.  Especially after this latest 'incident', where the NHS's incompetence will mean thousands of women needing a Mammogram, so waiting lists will be massive.  And thanks to the latest scandal heaven knows when I will finally get my check-up.
When my favourite IT guru had been called in to sort out the NHS's problems, he told the NHS their £60 billion system was unfit for purpose and "is never going to work".  I feel sorry for those who, through no fault of their own are now going to have to suffer because of its clunky incompetence; some will give up. Please don't .  Sadly as a survivor, we have more chance of a recurrence.  That's life.
Charities have called the whole mess 'shocking incompetence', and it seems incredible that in today's NHS no-one thought to query around 50,000 'missing' mammogram appointments a year for nine years – makes one wonder what else is 'lost' and what will be the next scandal.  Meanwhile I fear Weasel Hunt must be wondering when he'll next have to stand up in Parliament to apologise. His only consolation being the mega-salary in a private company posting he must have been promised once he resigns, just like La la Lansley, his predecessor. 
When was 'loss' discovered?
Interviews on TV news bulletins tend to suggest there were rumblings of problems way back in 2016.  These were definitely official by January this year, but it has taken until May before the scandal was out in the open. How many NHS officials have been involved in covering up these failings for over four months?
Victims will have to wait until the end of May before they know if they missed out. The Dept. Health (Hunt's Ministry) says it needed time to put into place a plan for dealing with the catastrophe. Is there no-one with any common sense working alongside Hunt that they still haven't got a plan in place?  Whenever he creeps out of his bunker for a photo-opportunity he has lots of staff running around – so why not make his massive PR team do something useful for a change?
As I write, 48 hours after the scandal broke, the Dept.of Health still has NOTHING on its website.
What does NHS say we can do?
NHS Choices has the calming information that most women can be reassured that they will have received their final invitation, but there are some women, now aged 70 to 79, who have missed an invitation due to a problem that dates back to 2009.  Some women?  Don't they mean over 450,000? 
All affected women registered with a GP will receive a letter by the end of May with further information.  So we only have another four weeks to worry – up to four weeks of sleepless nights!  No wonder insomnia is a growing problem.
A helpline is also available: 0800 169 2692.  But that has so few operators that it can't cope.  The Guardian says they have only had one hour's training, so no wonder when I called I got someone who hadn't a clue.
But if you wake up in the middle of the night and call them for reassurance (a time when many cancer survivors are awake) you get a voice telling you opening hours are 8 – 8.  Tough – more waiting. 
Karol Sikora comments
Often women have to fight for cancer care in the NHS.  "If we aren't being looked after we assume it's because someone in authority knows better.. …  We simply are not conditioned to push for decent healthcare and demand our rights.  That must change".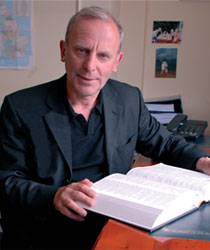 "One mercy here is that breast cancer in older women tends to be significantly less aggressive". But Sikora stresses that all three NHS screening programmes (for breast, bowel and cervical cancers) should be fully audited to ensure there NO other similar IT problems lurking unseen.
What you can do if affected
Phone NHS Helpline 0800 169 2692
However, this takes you through to a call centre where staff, according to The Guardian, have only had one hour's training. Enough to put you on the waiting list for a check-up, but not able to answer any question.
Or have a Mammogram done at a private centre, and no waiting.  GenesisCare (lovely people) a typical private centre equipped to take mammograms,  quoted me "under £200" for one, depending where you had it done at one of their centres around the UK    0800 169 2692
If you want the advice of a dedicated charity, Breast Cancer Care offers a Helpline Monday to Saturday on 0808 800 6000 where you get through to trained nurses.  They are there to support people through this and any other breast cancer concerns they may have.  Ask Our Nurses email service can provide expert support in writing.  But this charity has had to step in where the NHS has caused the problem, so it would be kind if you sent a donation to help them continue to look after us.