A GOOD Facial works wonders – especially now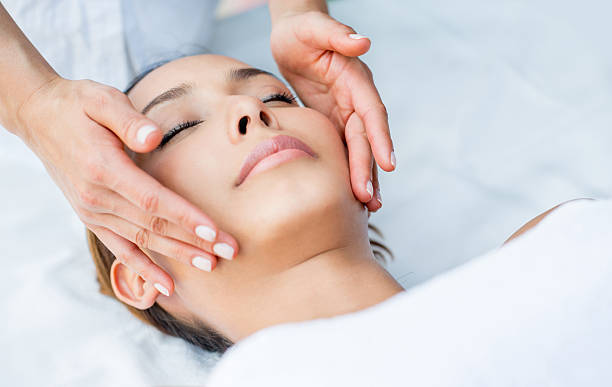 Suddenly, sunshine shows up stressed skin, especially if you don't wear make-up.  Skin dries out, and the mirror makes you look older.
So a facial is 100% essential!  If only to keep skin hydrated in summer's warmth.  It's NOT vanity, but we should copy Europeans, whose  medics believe in facials, massage and looking after skin.
Here in Britain, it's regarded as vanity to take care of your skin – but it's the only one we have.  If heat, side effects of treatment, pills, etc. have left you with sluggish skin, now is the time to give it a good treatment that thoroughly moisturises.
In Britain, medics don't rate skin on their list of priorities, But when I was being treated at a German hospital, I was startled, but delighted, to look at my treatment plan and discover it included a facial !
Querying this, my doctor explained that they wanted to get some moisture back into my skin, after all that had been done to this from the drugs I was on. "After all, the skin is the largest part of you – we want to keep it healthy" he explained.  Sensible advice!  I really warmed to him!
And wherever I went, in France, Germany, Italy etc I found the same attitude in Cancer clinics –  is this why their patients live longer than UK cancer patients?.
What to look for
Sadly, we don't have the same enlightened or sensible attitude in Britain, so we need to find our own treatments – and pay for them too, not have them as part of a rehab. course.
So, first thing is to choose a good salon.  No special tests, just a 'feel' as you go in that they know what they are doing.  I find the major companies all have their own training programmes, so if you are unsure look for a recognised name.
Elemis are a well-recognised brand with salons in major stores around Britain.  And you can be sure no store is going to allow a company inside unless it knows what it is doing;  they don't want complaints from customers.
Where?
On the Elemis website, I found a John Lewis store near-by.  And even better, there was a special offer on Power Booster Facials.  Just what I wanted – a really heavy boost to pump good creams into my face –  so off I went.
Inside the air-conditioned treatment room, Carly asked me to take off my top, gave me a sarong to wrap round me, and I lay back in their special chairs.  These are hi-tech with massage programmes you can choose for yourself;  I chose to have my legs massaged whilst I lay back, and she got on with putting different creams on my face.  Finally she painted a cold, refreshing 'gunk' on my face, and left me listening to wave music.
When she came back, she peeled off the layer, and underneath my skin was plumped up, soft and glowing.
Next day a nurse asked for my date of birth.  I told her, she looked up and said "I would have thought you would look older",  I walked on air all day!
And I went home to book another appointment;  I aim to have one every other month, and I reckon it's looking after my skin!
Saving money
Look on the Internet for Beauty training schools;  they often need models.  You pay a small admin fee, plus a tip to the trainee.
Dis-advantages:  a facial takes all morning, as trainees aren't as quick as professionals.  But the teacher won't let them work on you unless they have all the basic training;  they just need experience to get quicker.  And you will be in a large classroom with lots of other models being worked on.
You only have one skin – look after it – it has to last a life-time!