Medical Students organise tours of famed
Chelsea Physic Garden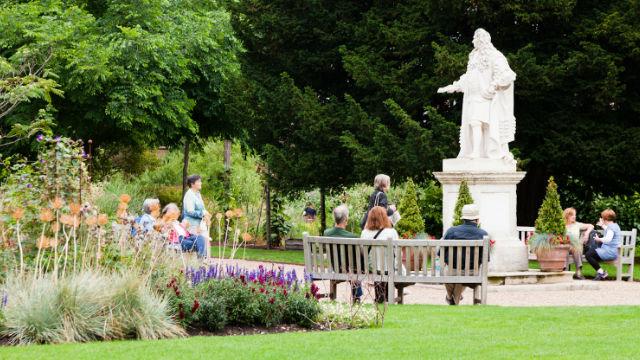 With all the interest in 'natural' and plant-based remedies, it is timely that Imperial College medical students have developed a project based on one of London's hidden treasures, Chelsea Physic Garden.
Chelsea Physic Garden was founded by The Society of Apothecaries in 1673, to provide plants for their medicinal treatments, in the days when herbs, plants and flowers provided the basis for most medicines.
History:  In 1700's, the Chelsea Physic Garden began a seed-exchange programme (Index Seminum) which saw the introduction of rubber to Malaysia, (with plants smuggld out of South America at great danger to the plantsmen), the introduction of cotton into the southern states of the USA and tea seedlings from China to India.
The Gardens work closely with The Royal Brompton Hospital, and this Video explains medicinal benefits – including the incredible benefits for some cancers from a Jamacan plant https://www.youtube.com/watch?v=oxvzBWw0nkI
SPECIAL EVENT 25th October 1100 – 1600 medical students of Imperial College London are offering their own curated tours of Chelsea Physic Garden*to the public
One of them, Freya Rhodes, says "As students, Chelsea Physic Garden has given us an invaluable insight into the wonderful world of botany and its historic role within the medical profession. We are extremely excited to work with the garden and visitors, and to keep the spirit of medical education alive".
'Chelsea Physic Garden has played a significant role in the history of medicine. It is a site that represents the combining of science and humanity for the public good,' according to Giskin Day, Course Director for the BSc in Medical Science with Humanities, Philosophy & Law, Imperial College
The students, who have been studying the plants of the garden, will lead tours in the Garden highighting topics that include, "Plants used during wartime medicine" and "sexual healing" (during World War I lavender and rose were two plants used for antiseptics, etc.)
Ordinary Days Opening Times/entrance fees  throughout the year https://www.chelseaphysicgarden.co.uk/opening-times-and-prices
Features
Chelsea Physic Garden features include
Europe's oldest rockery
Garden of Medicinal Plants
World Woodland Garden,
beautiful collection of Glasshouses containing plants from around the world.
Over time, the Garden has evolved, but it remains a place that cultivates plants & ideas.
Refreshments On-site café that is a meeting place for Chelsea-ites in-the-know,
Shop full of gorgeous things for garden lovers (ideas for Christmas presents). Throughout the main season, there are free guided tours. Check out Chelsea Physic Garden's year-round programme of Walks, Talks and Workshops.
Entrance Daily Entry to the Garden is £11 (from 11am -6pm)   Reduced fees in winter, et.
Annual 'Friends Membership' of the Garden is just £52 and helps to support the Garden.
66 Royal Hospital Rd SW3 4HS .
Nearest  tube Sloane Sq –   chelseaphysicgarden.co.uk.