Why visit Dorchester-on-Thames for the Wellness Day?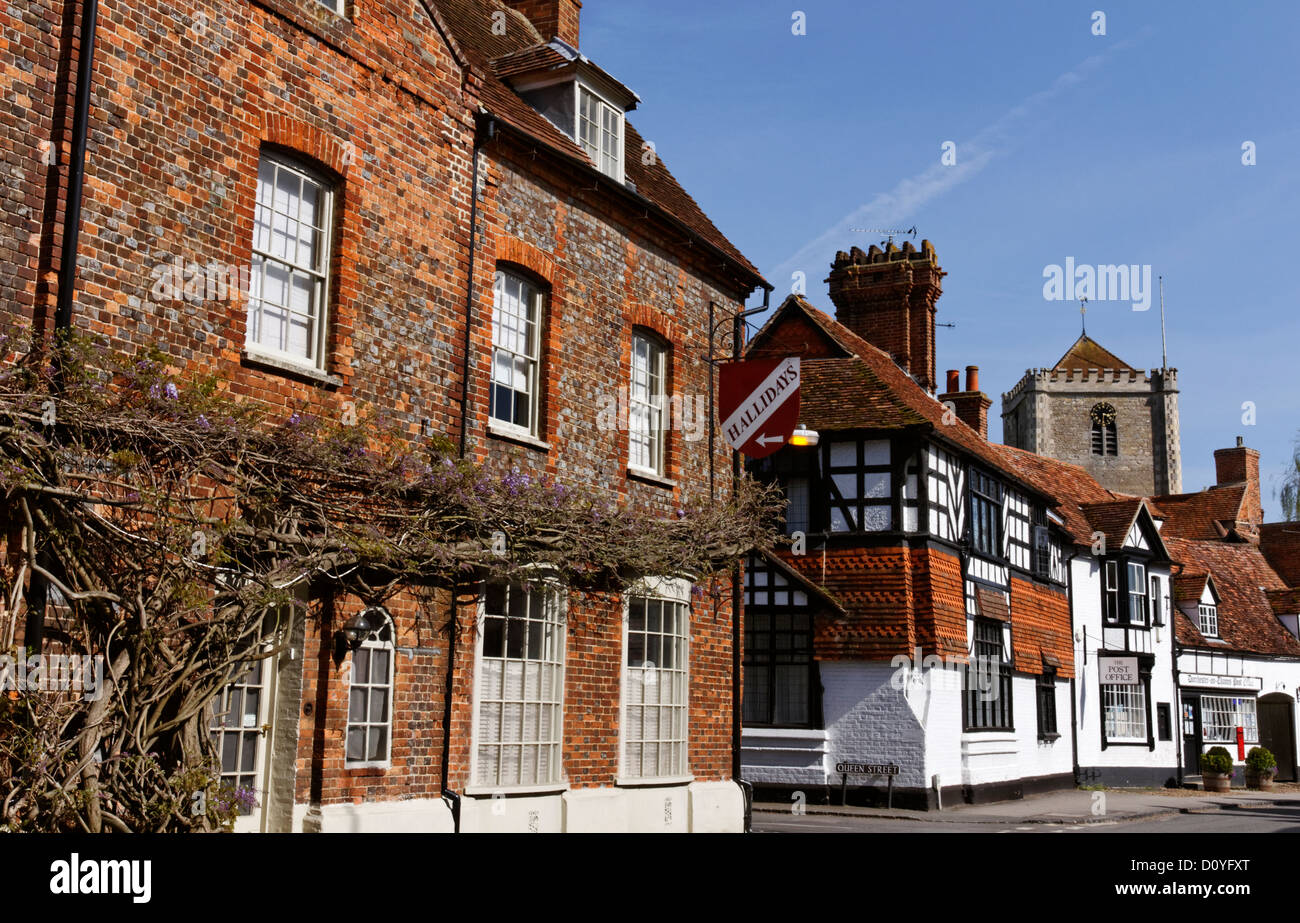 This very picturesque village often features on TV programmes such as Midsumer Murders, Poirot, etc. Its history dates from Saxon times;  there is an old Abbey and two ancient Coaching Inns offer bar snacks and restaurants. Plus there is  Lily's – an old-fashioned tea room. And thatched cottages, Georgian houses and water meadows for walks by the River Thame.
The Village Hall featured in Midsomer's  'Four Funerals and a Wedding' episode.  Around the village you find the old post office, The White Hart Inn, the George Inn and other buildings that were seen in this and other TV series, such as Poirot.
The Wellness Day is being held in the Village Hall, designed by the famous Victorian architect, Sir George Gilbert Scott.  There is parking, but please respect villagers' access.
This has always been a welcoming village.  Unlike most Roman settlements, villagers and conquerors mixed happily.  Today it welcomes visitors who come to wander around in the heart of Midsumer Murders country, and experience a 'typical' English village..
Dorchester got its name from the Romans, hence the 'chester' bit.. But it goes back even further to Neolithic times when there was a sacred site here. Traces remain of an Iron Age hill fort and looming over the countryside are the Wittenham Clumps.  Their name comes from the 'clumps' of beech trees which crown both hills.  These are the oldest known planted hilltop beeches in England, dating back over 300 years. and popular for walkers, especially those with dogs..
Dorchester came to prominence when The Pope sent a bishop called Birinus to convert the Saxons of the Thames Valley to Christianity. King Cynegils of Wessex gave Dorchester to Birinus as the seat of a new Diocese of Dorchester under a Bishop of Dorchester. The diocese was  large, and covered most of Wessex and Mercia. The settled nature of the bishopric made Dorchester in a sense the de facto capital of Wessex, which was later to become the dominant kingdom in England; until eventually Winchester displaced it.
There was a Saxon church on the site, which In the 12th century was enlarged – and that is what you see today.  King Henry VIII dissolved this Catholic Abbey in 1536, leaving a small village with a huge new Church of England parish church. Dorchester Abbey[6] is both the village's Church of England parish church and its main tourist attraction. Inside, you find a simple setting, which sets off the historic stained glass windows including the 1340 Jesse Window (left). My favourite 'piece' is the lead font for baptisms, at the entrance as you step inside.  Dating from 1170-80, it has eleven figures.  Legend has it these represented the Apostles;  only 11 because the villagers didn't want Judas.
There are two coaching inns from the days when this was a main route out of London, The George (100 yards from Village Hall) and The White Hart.(50 yards away)  Both  have open fires, do bar snacks and have restaurants.  Parking for patrons. The George has a galleried yard dating back to 1495 and it used to serve coaches on the Gloucester-Oxford-London route. The George was used as a filming location for ITV's Agatha Christie's Poirot .
The High Street and roads leading off would be a modern-day town planner's nightmare with all the different styles of building.  There are thatched roofs galore, old timber-framed houses and here and there an elegant Georgian house.  If you know your brick-work, there are lots of different examples of superb local work. Plus a unique thatched garden wall (inhabited by bees – you can see their entrance holes dotting the orange facade).
Most important, nearby is Day's Lock on the Thames, where an annual "World Poohsticks Championship" is held.  And walking around you will find villagers welcoming;  everyone as they pass you will smile and wish you 'good morning".  If they don't, they are visitors!