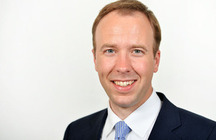 Minister, Welcome to your new post in charge of our Health – boy, if you are looking after mine I wouldn't wish that on anyone – so there's no need to hurry and change everything. In fact a bit of dignity and restraint mightn't be a bad thing.
As a Minister in the Government, you should learn that there are old-fashioned courtesies to follow, so perhaps you might cotton on that some of us would like some dignity.  Start with addressing us correctly, instead of by our first names.  And drawing a curtain around our bed doesn't stop the whole ward hearing what's being said.  Unlike your predecessors, please realise that rushing to instal changes can be counter-productive, especially if they are not thought out properly/
You have taken on a 'poisoned chalice' of a job, but take my advice. DON'T INTERFERE.  Previous Ministers, The Weasel and La La, kept on coming out with new ideas – which were bunkum and upset a lot of the workforce.  Not a good idea.  If you don't want to become a laughing stock just keep your head down and get on with sorting out the mess that is today's NHS – bring a glimmer of common sense into the job, and I'll leave you alone.
Take note that your ex-colleague, Ann Widdicombe, described much of what is happening in today's NHS as "Lunacy" and DO something about bed blocking.  I served on a McKinsey Think Tank tasked with trying to sort out the mess – and really it's not rocket science.  Just common sense, as Ann demonstrated. But sadly joined-up thinking to solve problems just doesn't join up.
This aide memoire should help you to understand what is important to us.  Officials probably won't tell you this when briefing you::
Rule 1. Patients often know what's best for them.
Most of us hate taking pills, but realise they can be helpful.  Please stop GPs trying to save money by prescribing cheaper pills – it doesn't work.  We get stroppy, so learn we don't appreciate wool pulled over the eyes.
Rule 2 ,  Junior Doctors don't deserve to take the can when Minister's , bright (or not-so-bright) ideas go wrong.
A & E had been told no more pillows to save money, so I gave the doctor attending me a break-down on how much InjuryLawyers4U would be suing for on my behalf (I have Kyphoscoliosis and need support for my head when lying down). Running scared, he went up to a ward and returned with an armful of pillows to support my head, and  saved you money because I don't take kindly to the medical consequences when my head isn't supported.
Rule 3,  Know what's going on – or don't open your mouth and put proverbial foot inside.
You wilI obviously want to do a good job, but don't stand up in Parliament and promise there is no post-code lottery;  these thrive across your new domain.  I know it would be easier for the NHS if I just kicked the bucket but I rather enjoy living, so I am spending rather a lot of your officials' time querying rules and regs. to ensure I get  correct care.  Take my advice; I know more about treatment than you ever will.  So do others, so don't mess around with us.
Rule 4.  Do what you're told, and you will have a bright future.
I know you must be thinking of retiring in a similar platinum-plated fashion to your predecessors, but do realise our taxes pay your salary.  So it might be an idea to start being nicer to us before the next election – or aren't you planning to stay on?  I think we should be told.
Rule 5. Advice from expensive American management consultants might not always work when transferred to UK
I have served on several NHS working groups;  I know they are going to make policy decisions because we are paid to attend.  Those run by McKinsey are excellent – but some other managment consultants you hire are rubbish.  I've spent a year discussing care for the elderly under the guidance of an American firm who ran text-book meetings on "how NOT to conduct a meeting".  Upshot was that when rolled out for a pilot the sensible (English) lass in charge, changed everything to what we had suggested should be done, and it now works like a dream.  So get rid of those expensive consultants and forego the 'all-expenses paid' trips to the States, Virgin Isles, etc., and you could save a lot of money.  Sorry if your staff will miss out on their freebies.
Rule 6.  Experience the reality of today's NHS treatment.
Actually, you might already have absorbed this.  I understand from the 'Daily Wail' (we all read it, but take its medical advice with a pinch of salt) you have signed up to the Babylon GP service.  Good. You already understand that those living near you have been shoved into mega-surgeries, and find it almost impossible to get an appointment in under a month.  So your £25 to get a consultation online might be money well spent.  Keep us informed.
And finally – You could save the NHS a lot of money if you cut down on wastage in over-prescribing. I could start up a chemists shop with the boxes of pain-killers I am handed after every visit to A & E.  It's no use telling staff I don't need them, they don't listen. I am storing the boxes so if I ever decide I've had enough they will be a cheaper alternative to Dignitas.  
Enjoy your new job.  And with the cancer conference season coming up, resist the temptation when asked to give the KEY NOTE speech.  Believe me, if you are in the Bar you always know when The Minister stands up to give this, as there is a mass exodus from the conference chamber.