Don't patients have rights too?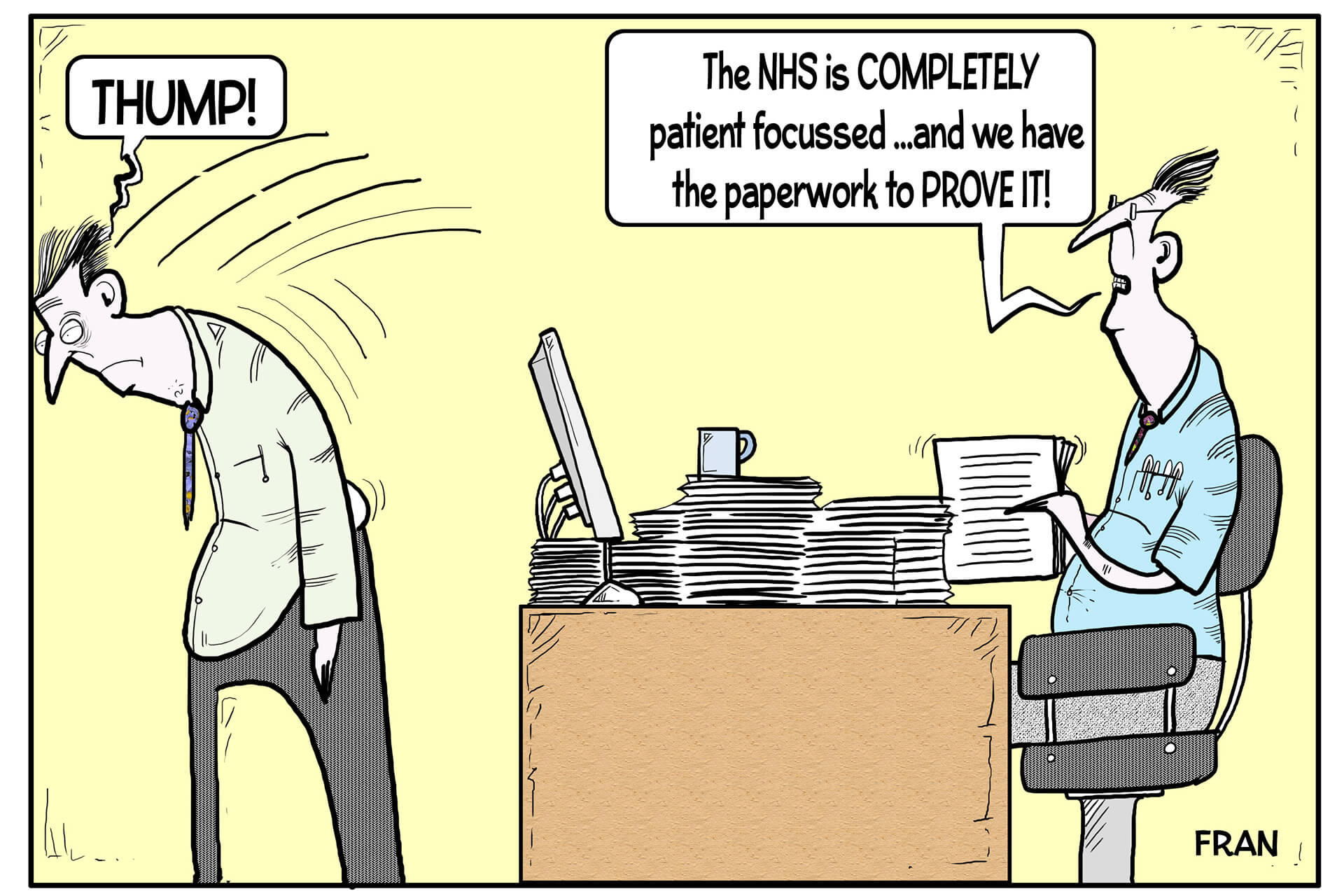 NHS hospitals have notices saying that 'we treat patients with DIGNITY'.
What's dignified about being ignored when waiting for a badly-needed bedpan?  Or having your case discussed over your head, as though you didn't exist.  Or left in Outpatients with no information about how long you are going to have to wait – and wait.  You realise your time and comfort comes far down the list – and forget about your dignity.
I agree with the notices that say that staff have the right to be respected, etc. but don't forget us!
No account taken of circumstances
As a polio survivor I was constantly lectured by doctors at Chelsea and Westminser Hospital,  "why didn't you get the polio vaccination?"  As though it's my fault. Mention that Salk didn't announce his vaccine until a month after I had caught polio, these know-it-alls don't even know who was Salk.
And don't remind me of a frightening appointment with their Assessment Nurse;  I tried to tell her polio patients need special anaesthesia procedures (she should have known this), so I would need an appointment with the Anaesthetist beforehand.  Dismissing this she said "you'll see the Anaesthetist when you go into Theatre".
I was so scared I paid to have the op done privately; I knew I needed tests to check the anaesthetic procedure; vitally important to keep me safe.
I complained to the Chief Nurse, and suggested that perhaps a talk by a patient might help make our care smoother. Chief Nurse asked if I would give a talk at the Annual Nurses' event (for free of course!).  When I arrived, with all my notes, props, and preparation, I was asked to wait – and wait.
Eventually, I was told "the Chief Executive is running late so the programme is changed to accommodate her". So my stories about how we have to climb up stairs on our bottoms, etc were torn up.
Outpatients
However, receptionists at Charing Cross Hospital actually use those Whiteboards supplied, and write up delay times if a Consultant is running late.  Perhaps other hospitals could copy this?
I dread to think how much LED screens cost hanging on the wall of some hospitals. Installed to tell us how long we would have to wait in Outpatients, but never used.
Warning us of delay time means we know if we can get a cup of coffee, or even go for lunch.  Time to visit a friend in a ward, or pay a visit to the cancer information centre – whatever.  Our time is valuable too, so can't the NHS acknowledge this?
Check-in screens
I never use these – they must provide the easiest way of spreading germs between patients.  But one day an officious nurse stopped me as a I walked past to the Reception Desk, and asked why I didn't use it?
I explained. She kindly said she would check me in, BUT – she snapped on gloves before she touched the screen.
So – either treat us as humans with a brain, OR get rid of those signs promising that we will be treated with Dignity – they don't work.
Jack and Jill waiting rooms.
The Marsden has developed a system for saving staff time.
Waiting in NHS Outpatients at the Fulham Road site., a nurse called me, installed me in a small, claustrophobic waiting room – and left me.  As minutes ticked by, I wondered  was I in the right place?  There was no-one to ask.  And no magazines to relieve the boredom – not even a picture on the wall.  Eventually, after being left alone for over 20 minutes (it seemed longer) my doctor opened another door and we started my appointment.
Next time I had an appointment – same thing happened.  I then realised that small consulting rooms had been slotted in, with two doors;  designed so that, side by side, us patients could be left to wait until the doctor had finished with the previous patient, then he opened up the inter-connecting door to see us.
I remember a Sister at the Marsden, hands on hips, telling me "you are ONLY a patient".  But surely at least the Nurse could tell us to take our magazine in with us so we have something to read, rather than staring at a blank wall, letting anxiety build up whilst we are left on our own.
Names