A GOOD Facial will save you from wrinkles – especially now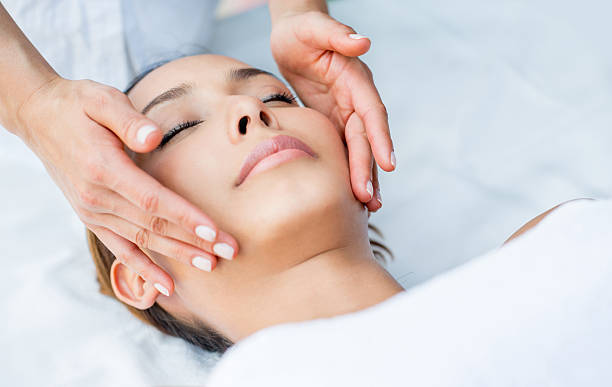 Strong sunshine shows up stressed skin.  Skin dries out, and needs deep moisturising to stop wrinkles. Skin needs  moisturising before winter sets in.
A facial keeps skin hydrated in summer's heat and humidity.  It's NOT vanity:  European medics believe in facials, and I often had massage included in my treatment, especially when Tamoxifen had given me scaly blisters all over my body.  Uggh!  Incidentally men are given facials too – and you should have seen the blissful looks on their face.
In Britain, medics don't rate skin as a priority, but when I was being treated at a German hospital, my treatment plan included a facial !  In Britain, it's regarded as vanity to take care of your skin – but it's the only one we have.  If heat, side effects of treatment, pills, etc. have left you with dried out, sluggish skin, now is the time to give it a good treatment that thoroughly moisturises.
European Doctors explained that they wanted to get some moisture back into my skin, after all that had been done to this from the drugs that dried it out; "skin is the largest part of you – we want to keep it healthy" they told me.  Wherever I went, in France, Germany, Italy etc I found the same attitude in Cancer clinics.
What to look for
Sadly, we have to find our own treatments, and pay for them, not have them as part of a rehab. course.  Although my 'new' GP is a wise old bird, and actually recommended an excellent therapist – she also specialises in massage for arthritis, and he has seen good results from this.
So, you'll probably have to find someone yourself.   You should get a 'feel' as you go in that they know what they are doing.  They MUST insist on filling out a form with your medical history.
If you live in the country, there are many excellent therapists who work from home, and prices are much, much cheaper. Look on the Internet for someone local – if they are any good they will
a) quote what types of massage they provide, and prices
b) there will be a disclaimer that under certain circumstances they will need a letter from your doctor.  This is a sensible precaution, and proves they are serious and well-trained.
If you live in or near a large town, Elemis are a well-recognised brand with beauty salons in major stores around Britain, and they have 'power boost' facials that push moisturiser into your skin.  They are serious about skincare, and I have always received excellent facials at their salons.
Where to find a salon?
I went to try one out at my local store near-by with an Elemis salon., and was lucky to find there was a special offer on Power Booster Facials.  Inside the air-conditioned treatment room, Carly asked me to take off my top, gave me a sarong to wrap round me, and I lay back in their special chairs.
These chairs are hi-tech with massage programmes you can choose for yourself;  I chose to have my legs massaged whilst I lay back, and she got on with putting different creams on my face.  Finally she painted cold, refreshing 'gunk' as a mask on my face, and left me listening to wave music.
When she came back, she peeled off the layer, and underneath my skin was plumped up, soft and glowing.
Next day a nurse asked for my date of birth.  As I told her, she looked up and said "I would have thought you would look older",  I walked on air all day! And went home to book another appointment;  I aim to have one every other month, and I reckon it's worth looking after my skin!
Saving money
Beauty training schools often look for models for students to work on, where you can get a facial for a small admin fee, plus a tip to the trainee.
Dis-advantages:  a facial takes all morning, as trainees aren't as quick as professionals.  But the teacher won't let them work on you unless they have all the basic training;  they just need experience to get quicker.  And you will be in a large classroom with lots of other models being worked on, so there isn't much privacy!
You only have one skin – look after it – it has to last a life-time!
These are the products I am using in this heat, which are helping keep my skin moist :[amazon_link asins='B0792KYFLQ,B078YCK9ND,B00BJMHBW8,B01M5C7PYF' template='ProductGrid' store='wwwaftercance-21′ marketplace='UK' link_id='ee88ca9f-926e-11e8-b1b8-63a3c31318f1′]