THIS FRONT PAGE SAYS IT ALL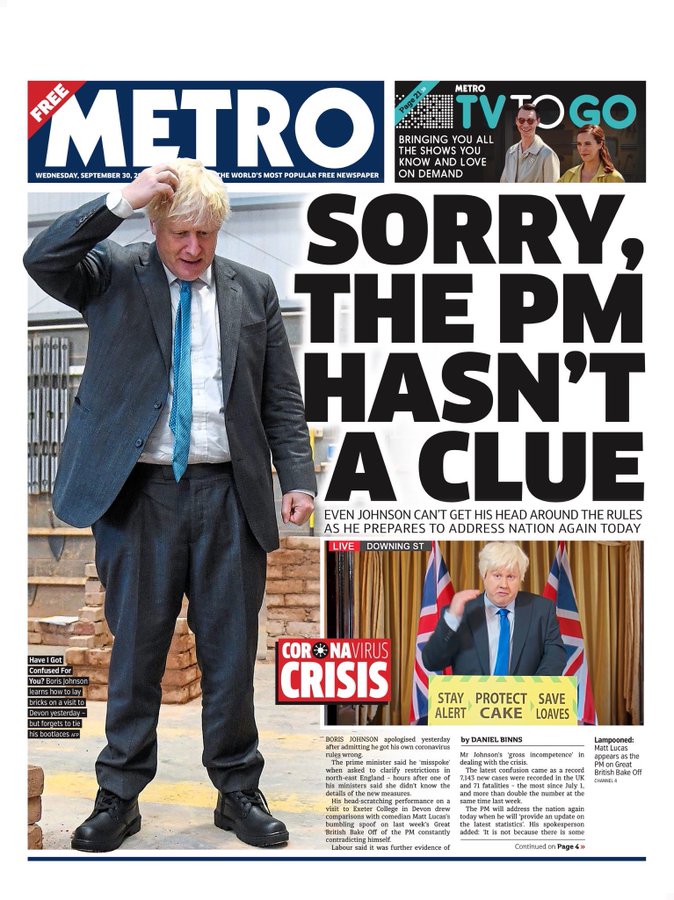 Before Lockdown, free copies of the Metro newspaper used to be found in :London hospital Outpatients;  I remembered this cover pic when I read the latest 'laugh out loud' posting from Roy Lilley of nhsmanagers.net.
He reminded me of why I never feel completely reassured today, when a nurse tells me important news.  I remember the days when nurses, proudly wearing their starched uniform, lacy caps and silver belt buckles, oozed competence.  Somehow scrubs never give the same impression.
Seeing our dishevelled leader begging at Biden's door, NHS guru Roy Lilley was obviously squirming too at the impression Bojo might be giving our American 'allies', and wrote a letter to them, saying :
"If I may, I'd like to take a moment to write a note to readers and colleagues in the US.
Successful people look successful, even if it is only from the waist up!
You never get a second chance to make a first impression. However, beyond that, it's about how we feel about ourselves. Self confidence and personal appearance go hand-in-hand.
The saying goes; what you see is what you get. It does matter what people look like. It gives confidence to colleagues and 'customers'.
Management and politics is not an audition for Britain's top-model but 'curated-
dishevelment' betrays a contempt for the public, who pay the wages for the man to do a job and represent them. (Bojo gets his PM six-figure salary, plus at least 1/4 million from his newspaper columns).
I think it is fair to say, we have a chaotic government and that is advertised by the personal presentation of the leader".
I think it matters
Clothes and the impression you give does matter.  I found it reassuring when I turned up at the High Risk Vaccination Unit at the Churchill Hospital, Oxford.  It had taken four months of questioning to find out if it was safe for me to have a Covid-19 vaccination, and I was concerned in case anything went wrong.  When I was met by someone who was obviously a Sister, dressed in a proper starched dress, and even with a silver belt buckle, her outfit convinced me I was in safe hands.
If she had been dressed in scrubs, I wouldn't have bee so reassured – but the uniform sent out a powerful message that here was someone who was in charge, so I was safe in her hands.
Yes, scrubs are easy to clean, but with this week's news that Nurses are to be given the same uniforms across Britain, can I put in a plea for a uniform that sends out a message "I am in charge", and "I have had a long and rigorous training", enabling patients like me to identify if I am in the hands of a Sister, or an HCA.