Boris isn't helping improve hospital food
During lockdown, the NHS decided it needed to commission a report by a Celebrity Chef into hospital food.  This is the umpteenth one – after Loyd Grossman first came on the scene.  One hopes – but doubts – that this one might improve catering – but as usual no-one seems to have asked patients what we want.
Watching Boris plod around with his Fitness Instructor, trying to lose weight after Covid, I felt sorry for him.  Until he – and a massive Downing Street Press Office – descended on my local hospital (Royal Berkshire) for a photo-op.
Photos show Boris is still shaking the flab.  He just doesn't get it that to recover after hospitalisation, you must eat sensibly especially if you need to lose weight.
The circus descended on the Royal Berkshire, currently working flat out providing excellent care under difficult circumstances.  Somehow, one would imagine the NHS had enough to do with sorting its current problems, but a genius has decided that now is the time to do something to improve the quality of hospital food.  With little warning, the huge Downing Street Press Office swept in for a photo-opportunity – to publicise the NHS's latest ideas for hospital food.
Cameras bristled, and Boris – with Pru Leith to lend 'credibility', was shown making himself a sandwich.  If you look at the result, (see picture above), I calculated this is going to add at least 700 calories to his daily intake.  And being cheap NHS ingredients, probably bulked out with fat and cereal, it was probably nearer 1,000.
Leith was included in the invasion, as, yet again, she has been paid to come up with ideas to improve hospital food.  After her last report, the NHS cut food budgets, closed hospital kitchens and contracted firms to assemble hospital meals in industrial kitchens off-site.  As a result, most patients today eat food prepared miles away, then trucked in from, say, an industrial site in Wales for London hospitals.  It's at least 24 hours before the food is reheated and served.  Sometimes it's frozen for up to a year before being served to patients. Is it any surprise that hospital food sucks?
Last time I was in an NHS hospital, food was supplied by the giant French company, Sodexo (who also run 5 prisons in the UK – not without problems).  My stomach doesn't like preservatives, and although I thought I had chosen carefully from the Sodexo menu, I was violently sick after the first meal, so existed on home-made sandwiches bought in by friends.  Going home, a nurse came in to look after me;  took one look and said "you are suffering from malnutrition".
She built me up by cooking boiled eggs, simple stews and home-made soups;  Nothing expensive, easy to make (if you know how) and nutritious – not a preservative in sight.  And what hospital food used to be like.
I am not alone
The Sun newspaper has recently taken up the campaign for better hospital food, and reported that "the union Unison, found most NHS staff won't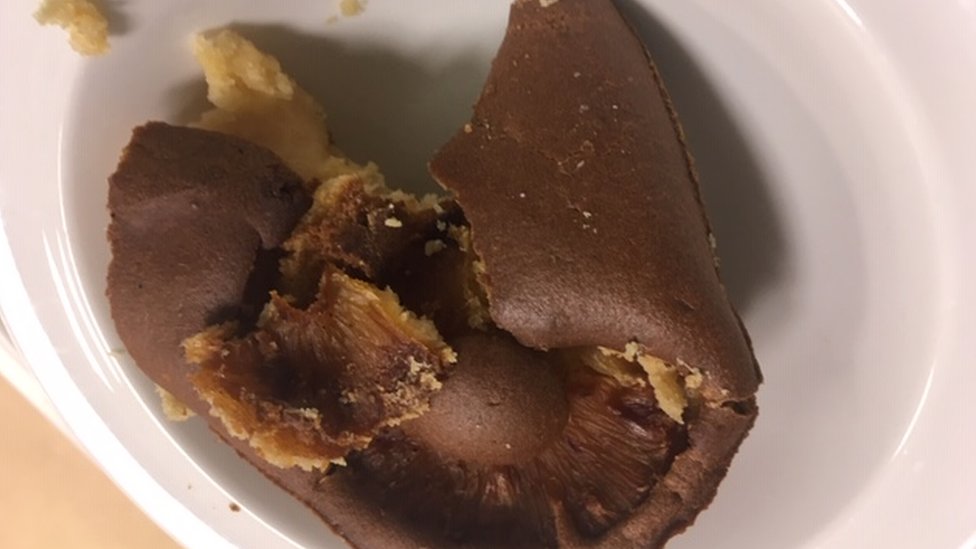 touch the dishes served to their patients on the wards".  This reminded me that when I commented that patients in the flagship Chelsea and Westminster hospital seemed to use a lot of food deliveries, a staff member told me "it's the doctors ordering take-aways".
This photo (right) comes from the BBC – no-one could tell me what it was, except that it was photographed in a hospital.
Kath Dalmeny, chief executive of Sustain, said: "We've been campaigning for almost 20 years for higher standards in hospital food, and the latest research shows that about half of hospitals do now comply with basic standards".  However, the food may contain the right vitamins etc., but if it's made with cheap meat and imported vegetables, it may not be very appealing.
Leith's suggestion – one of them at least – is to serve the food on china plates.  Has it occurred to Pru that these plates will need to be purchased, someone will need to collect the plates, scrape them clean, stack in a dishwasher (thrse cost £7,000+), then unload and put away – and on top, thousands of expensive commercial dishwashers will need to be purchased.  Before any money gets allocated for food.  That's supposing the food clean-up area hasn't already been turned into hospital office space.
Hospital food wasn't always like this
Alexis Soyer was a major celebrity chef in the 19th century/  One place where he made his mark was the famous Reform Club, and his invention of Cutlets Reform is still on the menu  (yummy!)  During the Crimean War, Soyer joined the troops (at his own expense), to advise the army on cooking.  His advice was so useful that eventually he was paid wages equivalent to a Brigadier-General. Florence Nightingale was a great admirer, and she frequently consulted him about hospital catering.  
So, taking this idea further, and thinking of all the celebrity chefs who have come out to feed their local NHS staff during lockdown, why not build on all this goodwill?  Many hospitals have closed their kitchens as a cost-saving exercise.  To re-open these is going to cost a lot of money, so if there is no kitchen, why not put the hospital food contract out to local tender and ask those chefs who have been so supportive of their local NHS staff if they would be interested?
They will have provided food for hospital staff, so know what goes down well
They will be local – so no more food cooked ages in advance and transported miles in fuel-guzzling lorries
This would be helping the local restaurants and pubs who will have to close during lockdown
Most will use local suppliers;  which means food will be fresh
And ask patients what we want to eat
Be Creative
If patients say they want pie and chips – then make the pies with the best quality meat, bulk them out with veg. and only use pastry as a topping (filo perhaps?).  Then serve a small portion of oven chips.  It doesn't have to be a vast pastry-wrapped calorie feast.
As any good cook will tell you, food prepared with love is the best.