Dogs play their part
America's Cancer Moonshot initiative was designed to encourage innovation in cancer research.  it's  mission was    "to end to cancer as we know it."
Whilst I was being treated,.one of my dogs was also diagnosed with cancer, so I was interested to learn that the Moonshot initiative is promoting new ways to study cancer, particularly in the promising area of immunotherapy. And it specifically gives a boost to collaborative work between animal and human medicine, in the realm of comparative oncology.
Dogs get some cancers that are very similar to those in humans, and now with a new infusion of funding, researchers are exploring treatments that could save the lives of both dogs and people.
What's happening?
The potential for mutual benefit is huge. In the past decade, at least 10 cancer drugs have been developed with input from canine studies. This month the American Food and Drug Administration approved the most recent of these, selinexor (Xpovio), for people with multiple myeloma who have failed at least five other treatment regimens. Verdinexor, the veterinary version, is being developed to treat lymphoma in dogs, whilst also being tested as an antiviral therapy in humans.
Why use dogs for research?
Both here and in the States, it as been found that dogs are able to detect minute odour concentrations as small as about one part per trillion; This is  equal to about one teaspoon of sugar in two Olympic sized swimming pools. Dogs can potentially be trained to detect diseases such as cancer much earlier than is currently possible, and could help to speed up the diagnosis process and impact on thousands of lives.
What's happening in Britain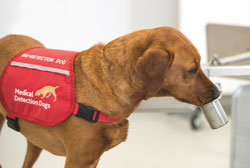 Here, the charity Medical Detection Dogs say they are now working on two NHS approved clinical trials. "Our urological cancer study with Milton Keynes University Hospital NHS Foundation Trust focuses on detecting the VOCs associated with prostate cancer.
Their colorectal cancer study, in partnership with Hull and East Yorkshire Hospitals NHS Trust, is investigating the potential of dogs to detect colorectal cancer accurately from urine samples.
Colorectal cancer is the fourth most common form of cancer in the UK. Due to the invasive nature of the current screening process, only just over half of those offered will take it up. A non-invasive method that can detect cancer at an early stage could both increase uptake of the screening and improve health outcomes.
Running alongside the urological study there is the first NHS ethically approved proof-of-principle trial exploring the ability of dogs to detect breast cancer, and there has been interest from many in the medical profession on the potential to detect other cancers such as lung and colorectal cancers.
The charity says their cancer work has two main aims:
To assist scientists through research into the development of electronic systems (E noses) that will assist in the early detection of cancer through cheap non-invasive tests.
In the short term, our cancer dogs could provide additional testing for cancers that are currently difficult to diagnose reliably, such as prostate cancer.
In the States
When it comes to cancer, doctors will tell you the earlier they find it the better the chances of survival. Often that involves complicated and expensive tests. A better alternative may be found at a small farm in Central Florida, where dogs are trained "to identify specific types of cancer," according to Heather Junqueria, founder of BioScentDX ."We become nose blind to odors. They become just the opposite," she says of the dogs. "That's like when you're walking, your dog and he just stops and sniff, sniff, sniff; he's gathering all that information up."
"What we discovered is all cancer has a similar odor," she says. "Generally, we believe there is a scent of all types of cancer," says Dr. Mohamed Hussein. "Disease has a smell that has been known for centuries."
"With the state of medical science, we can cure most cases early and that's the big thing–the early detection of the cancer," In a recent study, the dogs were 97 percent accurate in identifying lung cancer. With that being said, Junqueria stresses this is not a replacement for testing.
What now?