It puzzles me why we have to have politicians running the NHS.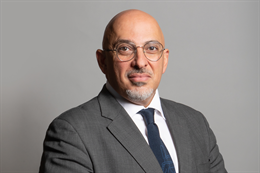 Some may remember the latest one to be sacked, Nadim Zahawi, had been appointed Under-Secretary of State for COVID-19 Vaccine Deployment. Rather an important job, one would imagine, particularly in today's troubled times.
He lasted less than a year, before skipping off to other appointments on his career path.  
During the COVID-19 pandemic,  Zahawi was placed in charge of the vaccine programme.  He lasted from November 2020 to September 2021, and was totally useless when I needed help in obtaining a vaccination. [2]After his short stint in charge, he went on his merry way, having managed to obtain seven different Ministerial jobs in four years, from education and finally ending with the plum job of Chancellor. 
But that was too much for some – rumour on ~Social Media abounds with stories that he apparently had managed to incur a 30%  fine when the Tax boys found out he had 'overlooked' tax due – one would like to think that a Chancellor would keep better account of their tax affairs.
Because the family are prone to problems because of allergies, which have resulted in losing my sight in one eye, to a cousin dying from an allergic reaction to penicillin, I have to be very careful about which drugs I take. During his time as Minister, I tried to contact Zahawi or his office three times, to find out from whom I could obtain official advice regarding which Covid vaccine would be suitable for me.  With no success.
Different NHS sources, from my GP to 119 (19 NHS depts. in all) failed to come up with any sensible advice about which vaccine I should have, so when Zahawi was put in charge of the anti-covid vaccination programme, I thought I would finally get sensible advice about which vaccine I could take.  Well, one would think so.
But after three failed attempts to try and get a response from his office, I contacted my MP and asked him to contact Zahawi on my behalf (play it by the book, in fact).
My MP produced feeble excuses and said he couldn't do this.  I was staggered, but on reflection, I suspect he knew that it was no use wasting his time, as he wouldn't get a response from Zahawi, leaving me to suspect that those in Government have known of Zahawi's track record for a long time.
I wish I could be so cavalier when approaching my tax affairs.  How anyone could 'overlook' a massive tax bill, when they hold the office of Chancellor, I fail to understand.